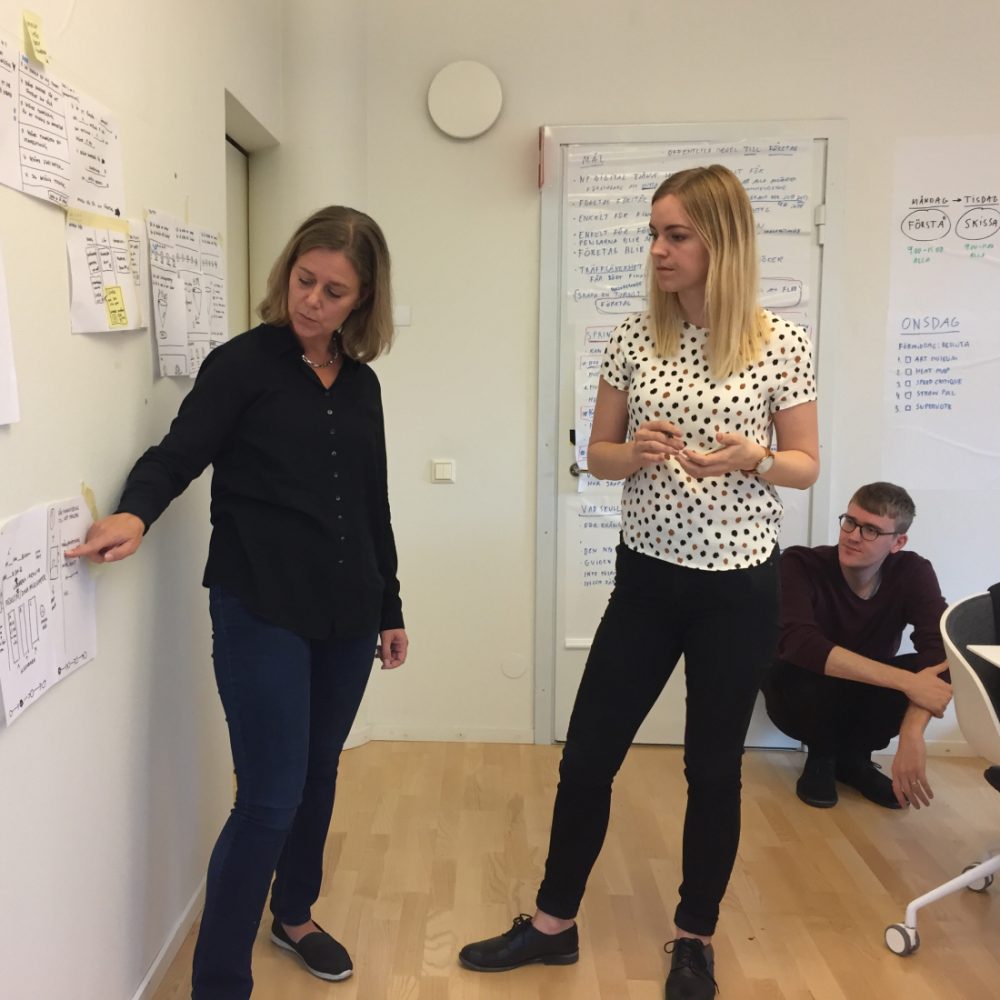 Knowledge
What is Service Design?
What does Service Design really mean, and why does Hello Future believe so passionately in this method of working?
What exactly is service design? A better understanding of service design as a concept is fundamental to productive collaboration and innovation, so we think it's important to strip service design right down to it most basic components, by answering the following questions:
What is a service?

What is service design?

Why has service design become so important?

What benefits does successful service design have?

What are the basic principles of the field?

What does a service designer deliver?

How do we explore how a service designer can help us?
What is a service?
A service consists of a set of touchpoints between a provider and a customer or user, which can vary in nature and also be separated in time. This is in contrast to a product, which is usually physical and has a single point of contact: the product itself. As a customer, you can often experience service touchpoints at intervals ranging from, say, 30 seconds, when you are connected from one person to another in customer service to, for example, three years, when you log in for the first time to use the app from the insurance company you signed up for three years ago.
The differing periods of service usage are often reflected in the payment model. Sometimes it is a one-time payment (e.g. for your car being serviced or a night in a hotel room) but often you pay for access over a year (e.g. insurance coverage, internet use). In other cases, you pay with your tax money (e.g. ambulance, fire brigade).
When you work with service design, you take this broad perspective on a service, where everything connected to the service is included to create an overall picture: all the infrastructure, all the people, all the communication about the service is covered.
What is service design?
Service design is a process to build and further develop services that provide the best possible user experience. Of course, services have been sold for hundreds of years, but the field of service design first began to emerge during the latter part of the 1990s as digitalisation accelerated. The methods and processes that service design encompasses are adapted to tackle the special combination of challenges and opportunities created by the digital society. Today, there is everything from basic courses in service design to courses in the subject at university and college level.
Why has service design become such an important field?
The short answer: Digitalization. It has brought about two major changes that have made service design vital for all types of businesses:
 Users place completely new demands on services.

 An increasing number of products are sold as services.
Digitalization – i.e. computers, internet and later smartphones, tablets and smart watches – has allowed service providers to be in users' lives and interact with them in a completely different way than before. You could buy the local bank's services in 1919, but to interact with the service you had to go to the bank. Today, you can conduct banking business any time, from anywhere. It's the same in a plethora of other industries. This new reality places completely different, much more complex, demands on the service provider. Service design exists to create services that meet these requirements. 
Digitalization enables more and more things to be demanded – and thus also delivered – in the form of a service. Products are "serviced", it is often said.
The car is perhaps the simplest example of the celebration of the service. Where you previously bought it, drove it away and called yourself a car owner, we now see the start of car ownership as a service. In the same way that you no longer need to buy and own physical DVD box-sets but simply stream shows via any digital service, you no longer need to buy and own a car – you can instead pay for access to a car, via a lease or a car-sharing initiative.
The provision of an increasing number of services further increases the demand for service design. And this trend often requires that companies that have not previously seen themselves as service providers but as product creators, must change to see themselves as, and act as, service providers.
How will you benefit if you work successfully with service design?
More customers choose you. If your service provides a better experience and is more relevant to the user than the competition, your offer will be more popular.
Every customer becomes more profitable. With a good understanding of the user and their needs, you can more effectively home in on providing more value, thereby increasing the customer's willingness to pay.
Customers become easier to retain. A better experience that creates, builds and maintains a good relationship with the user reduces the risk of the customer leaving you for someone else.
The efficiency of the business is increasing. You can focus the organization on offering what creates value and removing what does not. Service design directed towards internal processes can also expedite the simplification of service maintenance. 
What are the basic principles of service design?
Service design has its own set of processes and associated deliveries (which we tackle under the next question heading). Most important, however, are the fundamental principles that drive a service designer's work. Some of these foundations are:
Being user-centered. The work is always based on solid research into the users' real needs and experiences. This research should be from the outside-in, instead of from the inside-out which has been the prevailing philosophy since industrialization.
Being explorative and iterative, aware that a service constantly needs to be developed and adjusted with regards the user's needs. This is in contrast to a product, which is completed, then launched by the product team, before being passed on to a new department for support and customer service. Meanwhile, the product team moves on to develop the next product. To constantly monitor the overall experience, being aware of each individual touchpoint of your service is part of a potentially years-long journey for the service provider. Adjusting an individual part of the service in isolation – as a car maker would focus only on increasing the power of an engine in its product – does not work because a service touchpoint is not machinery but an experience that a user should experience. The user has a relationship with a service based on each touchpoint. The user of an engine does not have a relationship with every part of the machinery.
What does a service designer deliver?
The service design toolbox contains hundreds of different types of tools, activities and outputs – these are just some of the major ones.
Insights
Working with service design means a shift from guessing or speculating about what your customer wants to gathering genuine insights into their needs. Since the service designer's starting point is these needs, these research insights are pure gold. Not guesswork, not predictions based on your staff's experiences or anecdotes, but genuine insights from methodological research on users.
To work out insights, the service designer needs to talk to the users and have a structure for collecting the information. This is to understand what the users' driving forces, goals and frustrations actually are. To go make the transition from assuming and forecasting to actually knowing.
Customer journey
The customer journey is the metaphor for what the customer's experience of your entire service looks like and what the journey between the touchpoints looks like. Through user research, the service designer can map out what this whole journey looks like. It is most often illustrated in the form of what service designers call a customer travel map.
Service blueprint
A service blueprint charts how your entire service works. It helps teams understand how the customer sees or experiences your service process. It's a diagram that visualizes relationships between people, processes and digital touchpoints tied to a specific customer journey. It breaks the service down into the various layers, actors and systems that make it work. The purpose is to be able to analyze, test, implement, maintain and of course improve the service in terms of how you as an organization meet the customers' needs. An important side effect of producing service blueprints is that the work takes place collaboratively between representatives from widely different parts of the organization and thus creates new useful collaborations and breaks down the walls between the silos.
Prototypes
A prototype is a visualization that should represent what could be a finished product, which a service designer uses to test with users and gain insights. A prototype can also in itself be a deliverable to a customer who wants to get an idea of ​​what the service could look like in the future.
Prototype design has become an essential tool for service designers as it provides early indications of whether an idea or concept is relevant to users.
Launch / update part of service
A service designer works together with other professionals such as technical developers, art directors and business developers to complete, launch and update finished services. 
We employ several service designers who have solid experience of leading service design projects in both the public and private sectors. If you are curious to learn more about how our service designers work and how they can help your organization, don't be afraid to reach out to us.