Innovation from start to finish
We are your partner all the way from strategic path choices to exploratory experiments and technical implementation.
From managing to lab and on to production.
Strategy
As a leader, you need to create the conditions for successful innovation to be nurtured and shape an innovation system that suits your organization. We help you define your unique challenges, envision an attractive goal and create order in your portfolio of projects and initiatives that will take you forward. In other words, we'll work with you to establish a structure for systematic innovation work.
First of all, we'll look at what you're already doing from an innovation perspective. Most of our clients are trying something: it's just that they're not happy with what they're doing.
Perhaps they have random ideas that nobody in the organization really knows are good or not, because they don't have an innovation framework or strategy. Maybe the leadership team doesn't have a vision that is strong enough to point the organization in a certain direction. That's very common. Sometimes the strategy is to "let's just keep doing what we did last year, next year", which is not so much having a strategy as having a budget.
So the first thing we'll do is ensure that the leadership team have figured out their challenges, set a vision, and have strategic areas for innovation based on that vision. We'll help them to build that overall vision of where they would like to go. We'll ask them what are their specific challenges? And what would it look like if they successfully managed those challenges?
And then they need to figure out who will work on the innovation inside the organization. Who will be responsible for driving those events or processes? Or how will they deal with portfolio management or sorting ideas? If they have 200 ideas, which ones will they choose and on what basis will they be chosen? And then we need to help them work actively with their innovation culture.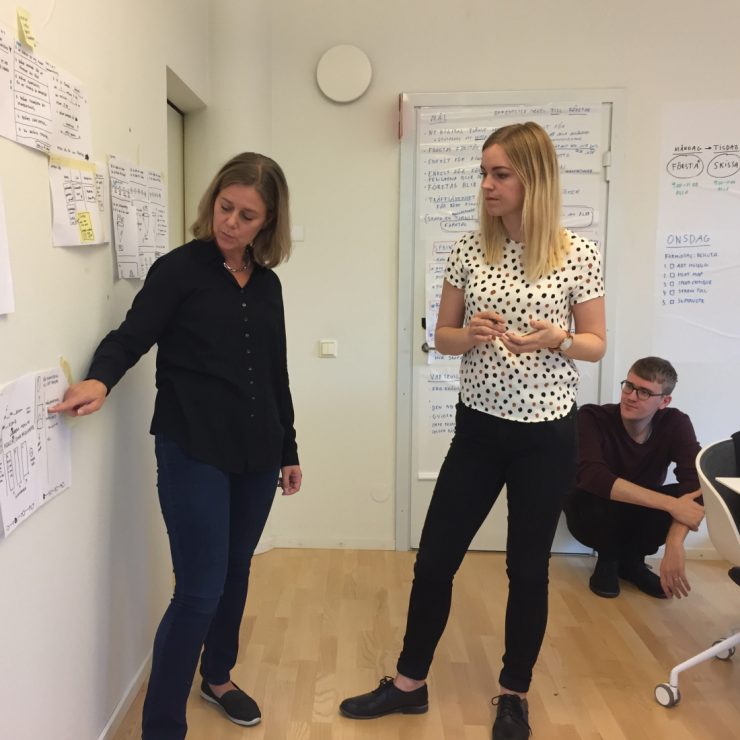 Exploring ideas
Hello Future researchers and service designers systematically test the ideas and hypotheses that may become your future service or product offerings. Through service design methodology, we help you better understand your target groups, generate ideas and prototype and test hypotheses. We help you explore the possibilities of your ideas, so that we can uncover the gold nugget ideas your organization is developing. 
We work with all sorts of innovation people. Some have only just started to work with innovation and need guidance and gentle encouragement to become involved in exploring their ideas, while others are more experienced, have knowledge of design thinking and user-centered work, and throw themselves into the process right from the start. We enjoy working with all kinds of people in this process – it's always instructive. But whoever we're working with, we're not going to be using the same sort of technical language and lingo as the big consultancies. We like to be as accessible as possible.
We want to encourage people, not intimidate them. We're also more holistic and people-centered than many other consultancies. We like ideas to be purpose driven, and we like working with people who are not just driven by numbers and business, but by the bigger picture. Yes, it's good if the idea makes some money, but it needs to be accomplished in a way that is sustainable. We also love it when the client is excited and throws themselves into a project. When the client's enthusiasm is infectious we often over-deliver on a project, simply because we love the idea and become immersed in the work. Of course, we also work on projects that the client just leaves us to get on with, but we are at our best and most creative when the client invests themselves in the process.
That's when the magic really happens.
Implementation
The Implementation team designs and builds the digital products, services and platforms that will create new value for you, your customers and users. Our team of UX designers, developers and strategists will help you from design and concept development to technical implementation and launch, to ensure your innovations are made real.
As with the 'Exploring ideas' team, we very much like clients who want to become fully involved in our processes, especially those who are not so experienced in innovation. By taking them slowly through our methods and discussing what is a good idea and what is a bad idea – and why – we build their trust and confidence. By doing this we nurture a collaborative relationship. We want to really mesh with a client and become almost like their internal development team – we don't just want to be a consultant, who has one meeting, takes notes on the customer's specification for a service and then disappears for six months, before submitting a service that nobody is happy with.
We want to feel like a part of the client's team. We want the client to question why they're building a service. Who's actually going to use this service and why? We spend the early part of the process nailing down exactly what the service is and how they want it to work. We don't want to make something that nobody uses. We want to make products that are thought through and well designed. The services need to look good, have a purpose and be easy to use. That is always our goal.